WITBANK (SOUTH AFRICA) JEWISH COMMUNITY
by Barry Mann
This web site of mine will be updated periodically and will remain under construction for the next few years.
(Please read my Hopes and Ambitions for this web site below.)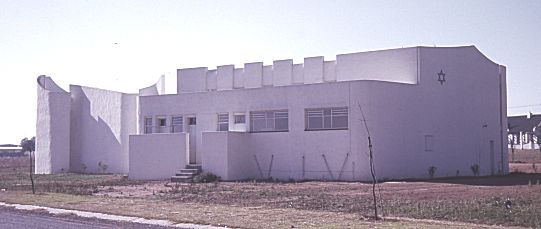 Witbank's New Shul

CLICK on any number on left to view any particular folder or section.
To return to this list after viewing a folder, use the BACK button on your browser.

1

Witbank Joubertrusts Memorial Park Jewish Burial Register Book.

2

A 28 page supplement from the Witbank News dated 24 November 2006, celebrating Witbank's 100th Birthday. Many interesting photos, articles and old advertisements.

3

PHOTOS (Many Folders of interesting photos)

4

Very Interesting. Some newspaper clippings from 1954 - 1974, and from Rabbi Engel's records, pages from the 1962 annual Year Book, some community history and a list of Rabbis.

5

Rabbi Gershon Meir Engel was the National South African Community Rabbi of Country communities from 1971 - 1982. In 2002 I took digital photos of documents of Rabbi Engel's visits to Witbank, which I found in the South African Jewish Board of Deputies archives. Rabbi Engel was very meticulous with his record keeping. Also very interesting.

6

Video of the 1988 Witbank Reunion held in Johannesburg. The video is one hour and 28 minutes long, size is 204 megabytes and is a .wmv file. Save the very big file to your computer and view with Microsoft Windows Media Player.

7

Witbank Jewish History. This history is the substance of a talk given by Mrs. Gafinowitz at a reunion of old Witbank residents which was held in Johannesburg in November 1988.

8

Two videos from the 1950's filmed by Maurice Bernitz. 1957 Induction of Rabbi Barron and H.O.D. dance.

9
LOCATION MAP: Location: Latitude: 25.86° S Longitude: 29.22° E.
It is approximately 150 kilometers north-east of Johannesburg and 100 km east of Pretoria. Current 2002 population 185,900.
10

Witbank Street Map.

11

Brief History of Witbank.
My Hopes and Ambitions for this web site:

Today is June 10th, 2007 the day I started writing my goals for this web site. It has been 10 years since I began researching my own family's genealogy and the Jewish communities of various towns. I have accumulated a lot of information these past 10 years, most of which is already displayed on the internet on my 4 web sites below. I still have more than 10 gigabytes of information which I would like to make available on the internet. The information I have is in the form of texts, lists, tables and images of documents and photos. Different languages that you will find on this web site include English, Hebrew, Lithuanian, Russian and Yiddish.
I do not have the time and resources to create a separate web page for each of the remaining items that I would like to add to the internet, or to create an index of each item, or to translate all the documents into English.
Most of the information on this web site will be displayed in the form of images of either documents or photos. Images will be displayed in separate folders in the form of thumbnails and slides. You will be able to browse through all the images in any folder like a slide show at your own pace, and download any image in it's original full resolution. I will include a description of the contents of each image folder.
The speed of downloading images and web pages from the internet, will continue to improve, and for each image you will have the choice of downloading it in it's original full resolution. For downloading the full resolution images it is better to have a fast internet connection.
Links to my other Jewish Community web sites:

1

WITBANK (SOUTH AFRICA) ----------- CLICK HERE.

2

ZEIMELIS (LITHUANIA) web site 1 --- CLICK HERE.

3

ZEIMELIS (LITHUANIA) web site 2 --- CLICK HERE.

4

LYGUMAI (LITHUANIA) ---------------- CLICK HERE.
FFor a List of all my web sites ---------- CLICK HERE.
My email address: mannbarry@gmail.com
Copyright © 2007 by Barry Mann. All rights reserved.