NEW MOUNT CARMEL CEMETERY -
CONGREGATION BNEI SCHLOME ANSHEI ZEIMEL SECTION
CONGREGATION BNEI SCHLOME ANSHEI ZEIMEL BURIAL SECTION AT NEW MT. CARMEL CEMETERY, GLENDALE, QUEENS, NEW YORK ENUMERATED BY BARRY MANN AND JEFFREY LEVIN ON MARCH 29, 2004
CONGREGATION BNEI SCHLOME ANSHEI ZEIMEL WAS ORGANIZED ON OCTOBER 8, 1893. THE GATE WAS DEDICATED IN 1926. THERE ARE ALSO SIX POSTS WITH INSCRIPTIONS.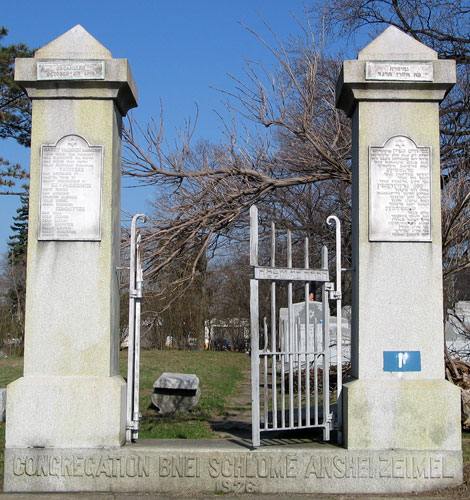 To view any of the photos or to visit any section described in the table below,
click one of the underlined numbers on the left.
To return to this list after viewing a photo, use the BACK button on your browser.
| | |
| --- | --- |
| 1 | Large version of the photo above |
| 2 | NEW MOUNT CARMEL CEMETERY - MAP OF CONGREGATION BNEI SCHLOME ANSHEI ZEIMEL |
| 3 | INDEX & PHOTOS OF TOMBSTONES, BY FIRST NAME WITHIN LAST NAME SEQUENCE |
| 4 | Enlarged photo of the left pillar in the photo above |
| 5 | Enlarged photo of the right pillar in the photo above |
| 6 | Enlarged photo of the top of the left pillar in the photo above |
| 7 | Enlarged photo of the top of the right pillar in the photo above |